For the start of 2017, we're giving back and I need your help…

Discover Another Side of Moe Norman, Better Your Golf Game & Help Some Kids Who Need It…

YES! I Want To Donate & Get Moe's Notebook!
I'm DONATING 100% of your $57 purchase today to a well-known charity that supports kids with Autism… And I need your help…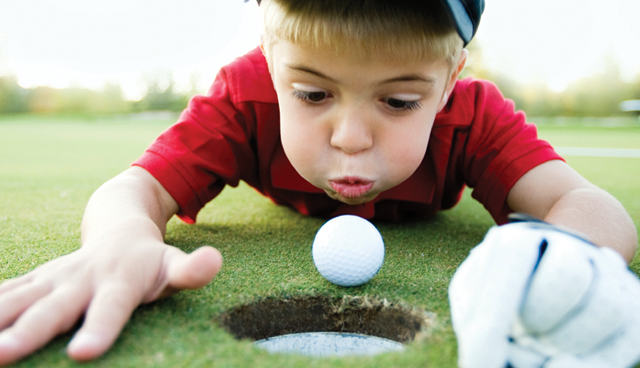 Why HEAL Matters and Why I'm Asking For Your Help…
The HEAL Foundation is a local non-profit organization in Northwest Florida. HEAL serves individuals and families living with Autism Spectrum Disorders.

Helping kids with Autism is a cause that I believe in. And in no small part because I believe if he were alive today, Moe Norman would be classified as autistic.

So today – you can get instant digital access and the 3-DVD set of "The Notebook" rush-shipped to you for just $57 (over 50% off).

And I'm donating 100% from every purchase to HEAL.

Heal Makes A Difference For Kids
YES! Ship My DVDs & Make a Donation On My Behalf
For more info on the charity I love, visit: www.healautismnow.org
Get an intimate look into Moe. Get inspired and discover Moe's secrets to improving your golf game…
Here are just a few of the secrets you'll discover when you watch this amazing and rare footage of Moe in action…
Why "upper body" players have a decided advantage when it comes to

repeating a smooth and accurate swing

with every stroke!

The lower body adjustment one pro PGA tour player picked up just by watching a video of a golf clinic Moe gave at Brevard Community College in Florida!

How he got the nickname "Pipeline Moe" during the 1957 Canadian Open!
A strange way to 

instant swing improvement

by putting your hands "in your pocket!" (Ben Hogan always tried this on every single swing!)
And a WHOLE lot more!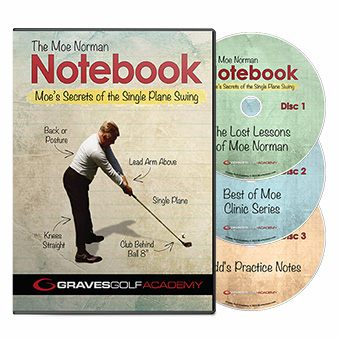 There is more than I cover here on this 3-DVD set… but I guarantee it will change your game for the better- AND be a lot of fun to watch!

The Moe Norman Notebook Charity Special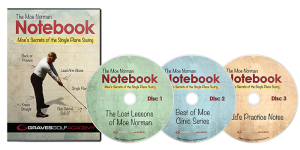 By ordering this exclusive golf package I am HELPING KIDS AND I get…
The never-before-released video:Lost Lessons of Moe Norman This video features Moe during a one-on-one swing clinic with Dr. Jim Suttie. It's over 45-minutes of in-depth instruction on developing The Feeling Of Greatness in my swing!
The never-before-released video:Todd's Practice Notes
This video shows Todd Graves breaking down each element of Moe's simple swing. The video is shot off of Todd's extensive notes that he took over 11 years as a student of Moe Norman. Watching this video and doing what it says can turn me into a "365-day" golfer.
The must-have compilation video: Best Of Moe Clinic Series! Moe shares his wit, wisdom and genius during various clinics and interviews. This video should be in every Moe Norman fan's golf video library. And it's gonna be in mine!
This DVD set regularly sells for the full price of $129 (and is a great value at this price)…
However, if I get it during this GGA Subscriber Charity Special, I save a whopping 55% OFF! Which makes my investment just… $57. PLUS, $57 of my purchase price goes straight to the HEAL organization helping kids with Autism…
On that basis, I'm ordering right now…
P.S. Remember – if you have the Notebook already – go ahead and place the order and email Tanya at support@moenormangolf.com and we'll get you a different DVD instead.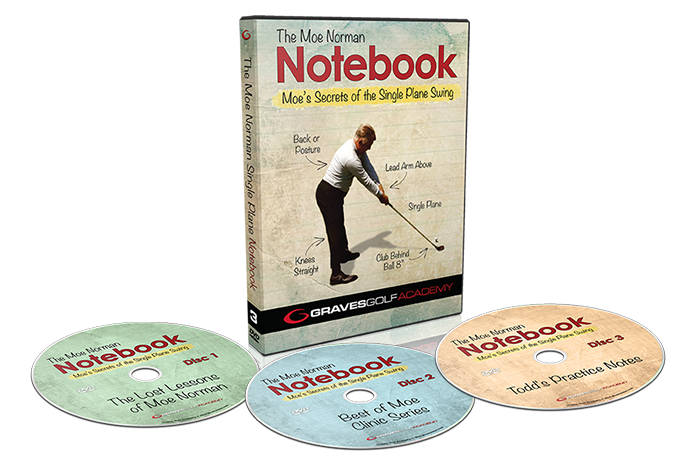 Help Change Lives And Donate $57 to The HEAL Foundation To Help Those With Autism.
You'll get instant digital access to the Notebook and we will rush ship your DVD's as well.
Thank You For Your Support!

If you would like to donate a different amount, please call Tanya at: (866) 377-2316

Sincerely,


Todd Graves
Founder, Graves Golf Academy
Copyright 2017 Graves Golf Academy