The Ultimate Indoor/Outdoor
Short-Game Tool…
Lower your scores and boost your confidence with this precise training aid
Introducing The Throw-A-Hole
In a moment, you're going to learn how you can revolutionize your putting even if you can't leave the living room.
But first, let's touch base about the practice green…
Many times there aren't enough holes cut into the practice greens to accommodate golfers, thus making short game training a hassle, especially when multiple golfers are hitting putts and chips to the same hole. Wouldn't it be great to have your own hole every time you practice?
Or how about something that is EASY to set up in your own back yard or living room to quickly improve your pitching, chipping and putting?
Now you can have both with the Graves Golf Throw-A-Hole.
Throw-A-Hole-2 The Throw-A-Hole (TAH) allows you to simulate holes anywhere on the green.

The 5.5 inch circular disc has a 4.25 inch center, the size of a regulation golf hole.

Comes 3 in a pack.
The speed the ball rolls on the green to the hole determines the best target line making it an important variable of great putting and chipping. The ideal speed of a ball will roll 12 to 18 inches past the hole if it misses.  This speed gives the ball the best opportunity to go in even if it hits the fringes of the hole.
Throw-A-Hole features a beveled edge angled the ideal amount to promote the ideal speed of the ball. The ball will stay inside the disc if it is rolling at the optimum speed to go in a regulation golf hole.  If the ball is rolling too slowly, it will stay outside, rolling off the edges of the disc.  If the ball is rolling too rapidly, it will pass completely through the disc.
With the Graves Golf Throw-A-Hole you can now take a hole with you every time you practice.  You can even use the Throw-A-Hole on the carpet inside your home, a great way to practice when you aren't able to get to the course.
Shaving strokes in your spare time…
This is the ideal, low-cost aide that can have you beating your buddies even if they don't see out at the range or the putting green. Yes, there are other indoor putting aides, but none are as easy to use and versatile as the GGA Throw-A-Hole.  Practice 3 putts during advertisements next time you're in front of the tube and then slide them under a sofa. You'll be improving your feel and line in no time.
Nothing to plug in or orient in the right direction. Something so quick to use and so easy to store, the Throw-A-Hole forces you to eliminate excuses for improving your game.
The Throw-A-Hole lets you find time to practice anytime! You can also toss a couple of these out if you're waiting on a slow foursome ahead of you and want to get a feel for the fairway.
It is simple, but I have had it precision-designed to improve your game.
And right now, it's on sale! And remember – you get 3 in a pack!
Plus…
You Get Our Comprehensive Short Game Training Program
The short game…
Does not… require a great deal of natural athleticism.
Does not… require sniper-like hand/eye coordination.
Does not… require timing like a cobra strike.
Does not… require a healthy back, hips, shoulders and elbows.
Does not… require powerlifter-type strength.
In fact, chipping, pitching and putting can be mastered by anyone of any age, gender or physical aptitude.
Just think about it: What do you think is easier to improve… increasing the club head speed of your drive by 5 to 10 miles-per-hour so you hit the ball an extra 20 or 30 yards… or… sinking a 5-foot putt?
Try and see for yourself.
But if you're like most golfers, adding those extra yards off the tee will take a lot longer than learning how to chip or pitch the ball into "gimme" range. Then rolling the ball into the cup.
Something else to keep in mind is that the short game is what I call…
The Great Equalizer!
You can make up for a lot of mistakes with your wedge game alone.
Couple that with a decent putting stroke and your score has nowhere to go but down.
Here's the bottom line: A complete golf game (one you can be proud of) requires a half-way decent long game… and… a short game that lets you put the ball in the cup.
The long game helps the short game for sure but…
The Short Game Makes The
Long Game Pay Off
After all, what's the point of hitting 300-yard drives… if… you can't make a 5-foot putt?
Imagine how a player feels after hitting a bunch of greens in regulation. Pretty excited, right? The same player who just felt like he was on top of the world will… all of a sudden… feel like the world is on top of him if he can't covert any birdies.
Due to a poor short game, when that same player misses any greens, he's looking at one bogey after another.
The fact remains that most shots you play in a round of golf are less than a full swing. You know it's true. The vast majority of shots consist of wedges, chips, pitches, bunker shots and putts.
Players with a sharp short game don't have to panic if their drives don't fly the length of the fairway. The long game does not have to decide what you make on any hole.
Besides, it's easier to develop better-than-average short game skills… than… it is to develop better-than-average long game skills. So if you chip, pitch and putt well, you'll have more confidence, fun and incentive to improve the long game.
How do you take your short game to a better-than-average level?
By using our…
Short Game Solution Video Training Package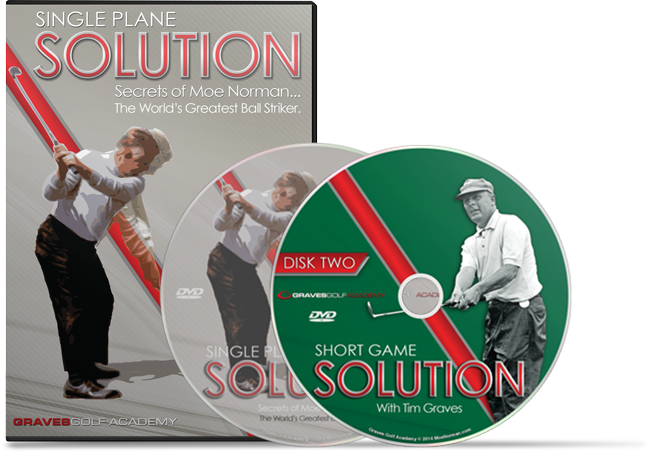 Tim Graves (a pro golfer for over 17 years with his most recent win at the 2011 South Central PGA Section Professional National Championship) shows you the secrets to a score-slashing short game.
Tim covers all of the essentials including:
How to putt

How to chip

How to pitch
Take a look at a few of the short game secrets you'll discover in the first video…
3 fundamentals of great putting most recreational golfers screw up. (The first one guarantees you'll tap the ball square. The second one makes sure the ball travels in the right direction. The third leads the ball straight into the cup.)

Why your putting grip is different than your swinging grip… and… how to make sure you don't confuse the two.

Two ways to grip a putter… plus… how to tell which one is best for you.

The correct way to position your feet when you set up to putt. (Get this wrong and the ball has no choice but to roll away from the cup.)

Only these parts of your body should move during a putting stroke… otherwise… you'll miss the long putts and embarrass yourself on the gimme putts that should go in but won't.

Three different size putters you'll be using and the advantages and disadvantages of each.

What you can and can't control during a putting motion. (Just knowing this narrows your focus and…




Almost Automatically Makes You A Better Putter

How to use a string to develop the putting skills of a PGA pro. (Quirky? Maybe. But so effective at forcing you to hit straight putts from now on.)

How to check proper putter face alignment while you play.

A little trick to reading greens like you've been doing it all your life. (Trouble figuring out where the ball is likely to break? Not any more. Just follow this simple piece of advice and you'll always tell which way the ball is likely to roll.)

The secret to gauging putting speed so you're never too short or too long of the cup.

The difference between a chipping stroke and a pitching stroke.

How to position your feet when chipping. (Stance is critical for short game success. If you're off by a tad the ball has no chance of going where you want.)

The keys to chipping success. (Plus a "chipping checklist" to make sure you've got all the bases covered.)

Best clubs to use and other basic concepts of chipping too many golfers simply don't know.

How to pitch the ball with fluid precision.

Where to place the ball relative to your stance before setting up to take a pitch shot.

Checkpoints to perfect pitching not one in a hundred recreational golfers ever considers.

How to hit a greenside bunker shot so the ball lofts up and onto the green.
Plus a lot more! Read what real students have written in to say…
"Short-Game Videos Very Helpful"
"The short-game videos are very helpful… I am very excited to practice what your instructors have taught. Best wishes for success at your golf academy."
— Ed W.
"Short Game Cornerstone Of Success"
"…I just want to thank you, Tim and the rest of your staff for your commitment to making the game "easier" for us. The Graves approach works… Tell Tim I paid attention to him during our short game instruction… My short game is the cornerstone of any success I've enjoyed."
— Lenny Molbert
"Your Teaching Methods Work"
"… Without a doubt your teaching methods work! Simple, to the point and I could put it to the test quickly… You sure make the game of golf more enjoyable and easier to understand and achieve. Thank you for such a great DVD."
— Ed Harper Jr.
"Improve Shooting"
"…I've improved from shooting in the 120′s to the high 70′s!"
— Chuck Carnivale
"Reduced Handicap"
"…I've reduced my handicap from 18 to under 8.
— Russ Graunke
"4 to 5 Strokes Off Average Round"
"…By practicing my chipping using the checkpoints and the alignment board, I have seen 4 to 5 strokes come off my average round. And the putting drills are a great compliment to the chipping fundamentals…" — Norman Facter
"Improve Beyond Expectations"
"… my putting and chipping has improved beyond my expectations. Thanks,"
— Roy Ferguson
"Watched Short Game Tips And Played Best Game Ever"
"…I did watch the bonus short game tips and today played my best game ever. I played the par 72 course at 77. This is with no birdies two sandy pars using your methods. One of the putting tips saved me from that end of the game changing. I remembered the idea of keeping my palm toward the whole and drained most puts after that…" — Bruce Mackay
And That's Not All You're Getting Today! The second video in the package covers…
The first video in the package focuses on teaching you the basics of a great short game. The second video is the all-time best-selling "Single Plane Solution" and is THE flagship training of the Single Plane Swing.
In this detailed video training, you're going to learn:
How the Single Plane Swing will eliminate your back pain
The 7 simple swing positions for a lifetime of long, consistent and accurate ball-striking
Moe's secret to consistent, perfect ball-striking, through the relationship to his body
Plus Drills and Practice Techniques to get your swing on the Single Plane in no time.
This is the complete introduction to Moe Norman's Single Plane Golf Swing. Nothing is held back. Swings are shown at various speeds with detailed graphics to break down every element.
Plus, Get The Following Bonuses Included When You Order Right Now:

Single Plane Solution E-book
FORMAT: Digital This companion e-book, written by Todd Graves is a perfect addition to the SPS DVD. Todd breaks the swing down in easy to digest segments, making your transition to the Single Plane Golf Swing painless and quicker than ever.

$47 Value

---

Slow Motion Swing Video of Todd Graves:
Training Video

FORMAT: Digital This video of Todd's single plane golf swing was shot at extreme high-speed, allowing you to see the swing frame-by-frame.If you've ever wanted to really study a master of the single plane swing, then this is the video for you. Yours Free when you purchase the Single Plane Solution DVD$47 Value

---

Behind the Scenes Practice Session:
Training Video
FORMAT: Digital Do you know the difference between quality practice vs. quantity practice?Knowing how and what to practice can mean the difference in 20-30 strokes on the golf course. I give you the exact same techniques I use to:

Practice Pre-round On the Course
Use Targets
Practice on the Range
Correctly Build Your Swing$27 Value

---

Pre-Game Warmup Routine:
Training Video
FORMAT: Digital Never before seen footage of a warm-up routine you can do each pre-round to keep you healthy and playing at peak performance.

$27 Value
After you watch these two videos (and practice the drills) you'll develop the… Crucial Skills To Becoming A Scratch Golfer
You SAVE $97

and get it all when you act now…
---